AI Call Summaries for Enhanced Productivity
Save time and effort in your note-taking, and let AI be your assistant. Avoma's AI-generated Key Takeaways offer automated call summaries, providing executive-level overviews and actionable next steps without any set up.
Where to find Key Takeaways:
Navigate to the Notes tab of any external call to find several key bullet points: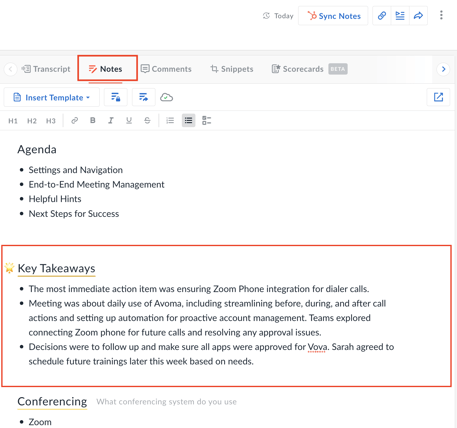 Leveraging Key Takeaways:
Better Follow-up: Share these summaries to improve accountability and maintain momentum
Prep for Future Calls: Quickly review previous call summaries for informed and focused engagement
1:1's and Reviews: Recall key points faster and evaluate progress and upcoming tasks
Want more help? Reach out to our Support Team at help@avoma.com anytime!