Avoma automatically records, transcribes and summarizes your Daily Standups - so you don't have to worry about missing any details and can catch up on important updates in less time.
Getting started is really easy, and with no additional charge if you're already on the Plus or Premium plan. Otherwise, you'll have to subscribe to the Lite plan.
1. Decide if you want to record all internal meetings vs specific Standup meetings
Use for all internal meetings: If you want Avoma to record all your internal meetings, including Standups, then simply go to the recording settings page, and enable the "Record internal meetings" option:
This will automatically record all your internal meetings. You can always override this setting and decide to disable an individual meeting.
Use only for specific Standup meetings: If you don't want to record all your internal meetings, and instead, only want to record specific Standup series, then simply go to the homepage, then click on that Standup meeting's recording status "Recording Disabled":

Then click on the "Enable Recording" and then select "This and future meetings in the series" option to enable recurring meetings:

This will only record that particular recurring meeting series.
2. Select the meeting's Conversation Purpose to "Stand Up" if it's not automatically selected
Based on your meeting invite's title, Avoma will automatically detect the "Conversation Purpose" for that meeting.
Sometimes it may fail to detect it automatically or detect it incorrectly. In those situations, you can still select it manually to "Stand Up" as shown below: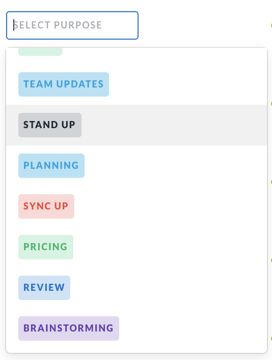 That's it. As long your standup meetings' are enable for the recording, and have the Conversation Purpose set to "Stand up", Avoma will record, transcribe, and summarize these meetings with results like this: