Integrate HubSpot so that your meetings and calls sync with Accounts, Users, and Open Deals in your CRM.
License required for integration: Premium, Business, or Enterprise
Note, you'll need a HubSpot SuperAdmin to complete this integration. Once one user has connected HubSpot, this integration is available to all other users at your organization with the required licenses.
To connect HubSpot, go to your Avoma Settings page and navigate to the CRM settings. Look for HubSpot's integration and select to Connect: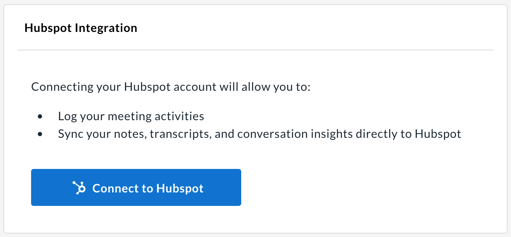 Once you give required permissions and complete the authorization steps, you should see your HubSpot account is connected to Avoma's account.

---
Enable Call Recording Settings
If you want to summarize and analyze your calls from HubSpot Dialer, then you just need to make sure you have HubSpot Sales Calling and Recording is enabled by going to the HubSpot's Settings > Sales > Calling section as shown below:

---
If you have any additional questions, please contact our team at help@avoma.com.