Avoma has a native integration with Zoom which allows you multiple options when recording your Zoom meetings.
With Avoma's integration with Zoom, your meeting recording experience is more seamless and efficient than ever.
Avoma Integrations with Zoom
Avoma integrates with Zoom in 2 different ways. Within your Avoma Conferencing Settings, you will have the option to either record your calls via Zoom Cloud Recording or by utilizing the Avoma Assistant (bot).
Avoma Assistant (Bot)
With this option, Avoma will request to join your Zoom meeting as a participant of your meeting.
Zoom Cloud Recording (Recommended)
With this option, Zoom will record your meetings and send that recording to Avoma for transcription, analysis, and notes extraction. This means the Avoma Assistant does not need to join the call as a participant.
NOTE: Zoom Cloud Recording is only available for anyone with a paid Zoom license.
---
Connecting with Zoom
To connect, navigate to Settings > Your Account > Conferencing.
Choose the Zoom Cloud Recording option, and click "Connect to Zoom''.
A pop-up will then appear that will allow you to log into your Zoom account.
Once completed, you will have confirmation that your Zoom Cloud Recording is successfully configured.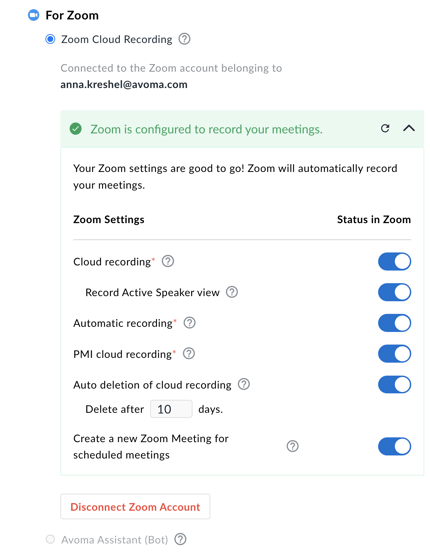 TIP: Ensure cloud recording, recording active speaker view, automatic recording, PMI cloud recording, and creating a new Zoom meeting for scheduled meetings are all toggled on to ensure your meetings are recorded properly based on your recording preferences.
---
Avoma App for Zoom
If you are connected to Zoom Cloud Recording, you have the ability to add the Avoma App to your Zoom account, which allows you to utilize Avoma's notes editor for your meetings without needing to open a separate web browser.
Installing the Avoma App
You can install the Avoma App through your Conferencing Settings by clicking on the "Install Avoma Zoom App" button at the bottom of the page. This will allow you to authenticate into Zoom and finish the installation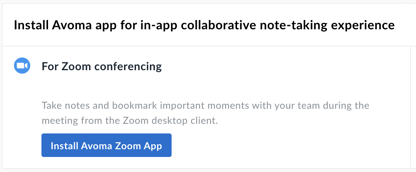 NOTE: The Avoma App is currently not supported for conferencing platforms other than Zoom.
---
If you have any additional questions, please contact our team at help@avoma.com.