This article covers the steps to connect your Zoom Phone to Avoma so that the recorded calls will be transcribed and the data will be extracted.
Connecting your Zoom Phone Account
In Avoma, visit your the Dialer settings by navigating to Settings > Dialer > Zoom Phone Integration: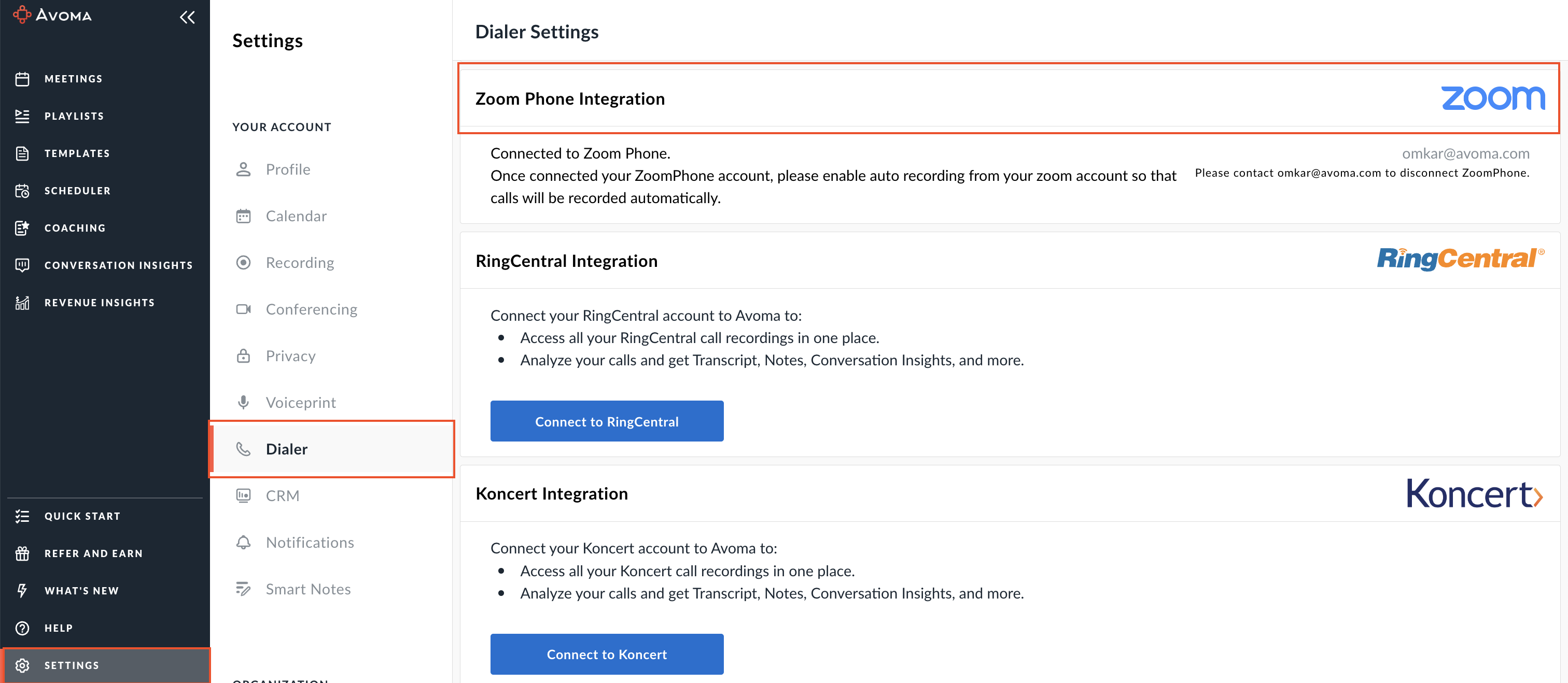 Click "Connect to Zoom Phone" button, give the required permissions, and complete the authorization steps by logging into your Zoom account to approve the connection.
You should see a confirmation message upon successful authorization, and begin to see your Zoom Phone account connected to your Avoma's account.
NOTE: To ensure proper integration, it is recommended that the email used to sign up for Avoma matches the email associated with the system being integrated.
Requirements
- You will need a Plus or higher license in order to set up the integration with Zoom Phone.
- The user who completes this connection must be the Zoom Admin and an Avoma Admin within your organization.
- Ensure that you have Zoom recording turned on for "Zoom Phone" in your policy settings within Zoom. Here is what that looks like in your Zoom - head to Account Settings > Zoom Phone > Automatic Call Recording:
Note : Please note that "Automatic Call Recording" must be enabled in Zoom Phone so that calls are automatically recorded and Avoma can pull these calls for processing. Check this help article for more information.
---
Everyday Usage
Review Summarized Notes & Call Analysis in Avoma
Once Avoma gets the recording file from a call, it transcribes and analyzes each call with summarized notes, speakers' talk times, and coaching insights, just like you see for your scheduled meetings.
You can edit the notes in Avoma and add any missing details. If you have a CRM connected with Avoma, the notes will be attached to the associated CRM records.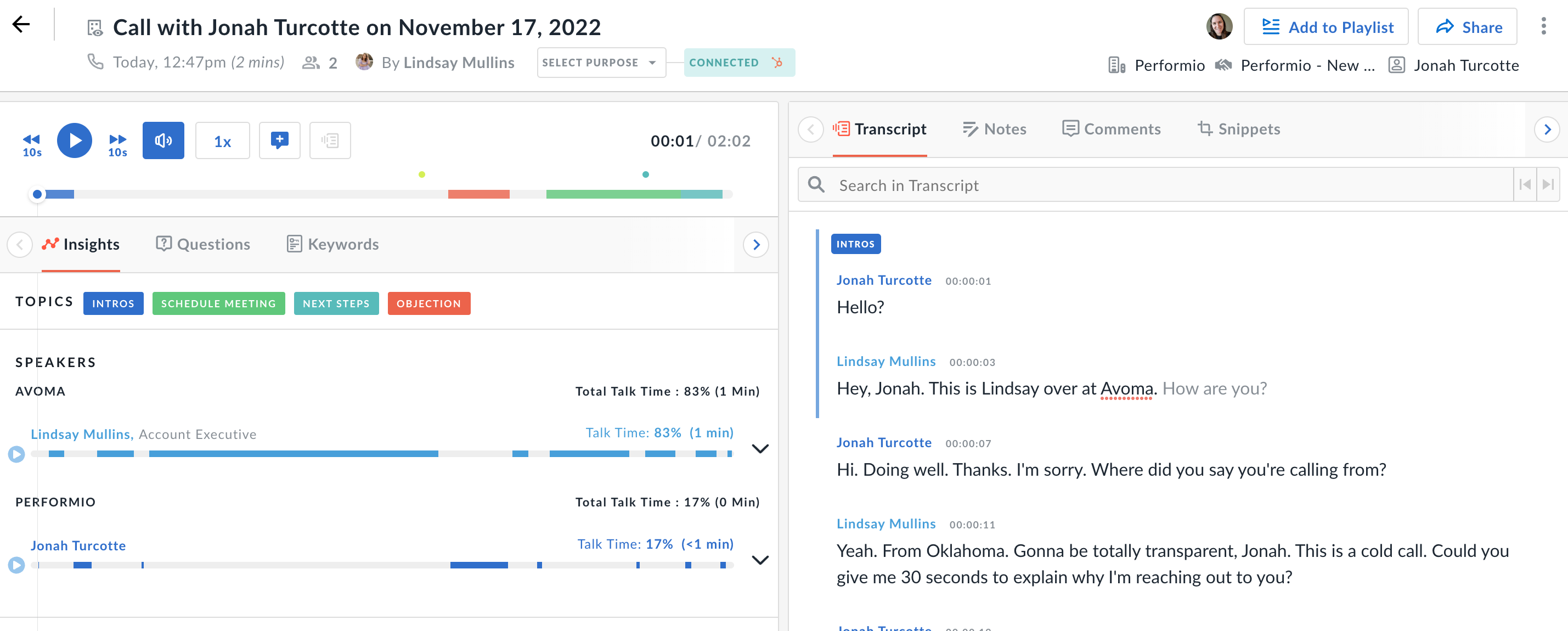 Coaching
With the calls available for review in Avoma, you can visit the Conversation Insights dashboard to look into team trends, individual coaching opportunities, and to see common requests from customers.
You can look at all phone calls and meetings combined, or you can filter by Call Type to just review phone calls made by the team. These additional filters allow you to dig into the details and find the strengths and opportunities within your team.

---
Disconnect Instructions
Uninstallation from Avoma App
NOTE: You must be the Zoom Admin who initiated the connection to disconnect
Navigate to Settings -> Dialer
Locate the Zoom Phone card and click on "Disconnect Zoom Phone"
Uninstallation from the Zoom Marketplace
Login Into your Zoom Account and Navigate to the Zoom Marketplace
Click on Manage -> Installed Apps or search for the Avoma Zoom Phone App.
Click on Uninstall.
You might have other Avoma Apps installed in your Zoom Account. Be sure to select the correct Avoma Zoom Phone app.
---
We're here to help! If you have any questions about your Zoom Phone connection, please contact our team at help@avoma.com