Signing up for Avoma takes only a few minutes and includes a 14-day free trial!
Visit our Sign Up page, and you will be directed to create your Avoma account using your Google or Outlook business account.
WARNING: It is important that this email comes from a domain of an active website. Avoma also flags .edu emails, as well as emails with generic domains (gmail.com, yahoo.com, etc.) as invalid.
If you have a unique use case and require may special attention, please reach out to help@avoma.com to request assistance.
---
Following signup, you will be directed to enter in your company details so we can best configure your account to your role.
You will then be directed to your new Avoma account and the Quick Start steps. These steps are the basics that allow Avoma to see your upcoming meetings and join the calls you want.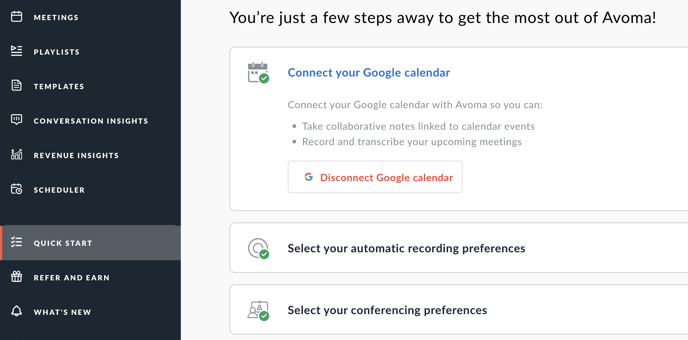 The steps include:
Connect your Calendar: Connecting to your Google or Outlook calendar lets Avoma see your upcoming meetings and the join links so the calls can be recorded.
Select your Automatic recording preferences: While you can change the recording for meetings one-off, this is where you can set your preferences for recording based on a call being internal or external.
Select your Conferencing preferences: This step is necessary if you would like to enable Zoom or Webex cloud recording. If you skip this step, the bot will join your calls to record.
Record Voiceprint: Reading this 30-sec script helps Avoma recognize your cadence and tone and improves the Speaker Identification in your transcripts.
Integrate your CRM: If you want your call notes and meeting events to be pushed to your organizations CRM, this step is important.
Once configured, you are all set to begin testing out Avoma! As you begin, we recommend scheduling a Onboarding Demo with our team so that we can learn more about your needs and show you some next-level best practices.
If you are currently in a trial and would like an extension, please reach out to your Sales representative or help@avoma.com.
---
If you have any questions about these Avoma sign up steps, please email us at help@avoma.com.