Signing up for Avoma only takes a few minutes and includes a 14 day free trial! Once you visit our Sign Up page, you will be directed to log into your Google or Outlook work email account.
NOTE: It is important that this email comes from a domain of an active website. Avoma also flags emails from the domain name .edu as invalid.
If you have a unique case and require special attention, please reach out to help@avoma.com to request help.
---
Following your login, you will be directed to enter in your company details. Once that is complete, you will be directed to your new Avoma account and your Quick Start steps.
These Quick Start steps involve syncing your work calendar and setting up other preferences.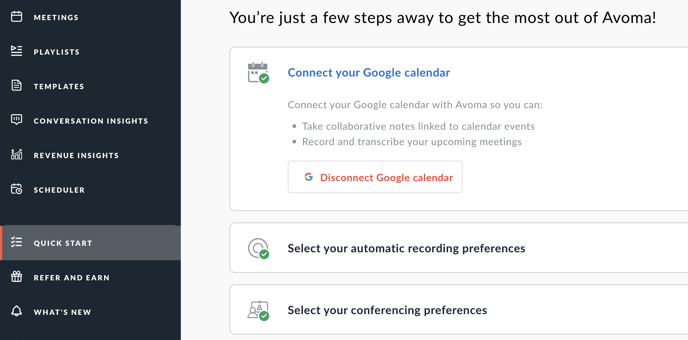 Once configured, you are all set to begin testing out Avoma! As you begin, we recommend scheduling a Onboarding Demo with our team so that we can learn more about you and show you some best practices.

If you have any questions about these Avoma sign up steps, please email us at help@avoma.com.