Overview
Avoma is a conversation intelligence solution for Sales and Customer Success teams to transcribe, summarize, and analyze customer calls and meetings.
Account Set Up
To use Avoma's conversation intelligence functionality for your Salesforce account, start with step by step instructions below:
1. Create Avoma Account
First, you need to create an account on Avoma by signing up from this page:
https://app.avoma.com/signup
. You can sign up to Avoma with your work email address using Gmail and Outlook.
Don't worry about subscribing to any paid plan. The service is free to get started. Once you start using Avoma, our Sales team will reach out to you and discuss which subscription plan will work best for you based on your usage.
2. Connect Salesforce Account
Look for the Salesforce Integration section as shown below:
Click on the "Connect to Salesforce" button, You will view the permission screen like below.
Once given the required permissions, and complete the authorization steps. Now you should see your Salesforce account is connected to Avoma's account:
Note: The "Automatically Sync Notes to CRM Records" and "Save Notes to Salesforce's Activity Feed" will save in Salesforce only in the below cases
The meeting should not be private (You can manually sync the private meeting notes)
The above Setting should be ON
The supporting license should be CRM integration in Avoma
3. Select Recording Settings
If you want to record, transcribe and summarize scheduled meetings from your calendar, then you will need to also select which meetings do you want Avoma to automatically dial-in and record as shown below from the Settings page:
https://app.avoma.com/settings/admin_settings
Everyday Usage
1. Record Salesforce Meetings
Once you have the appropriate automatic recording settings enabled, you don't have to do extra work to record day-to-day calls via Salesforce or Web Conferencing meetings.
In the Web Conferencing services' case, Avoma integrates with most of the Web Conferencing services and gets the recording from those services.
2. Review Summarized Notes and Call Analysis in Avoma
Once Avoma gets the specific recording file, it transcribes and analyzes the entire call so you can find important nuggets of information easily.
In Avoma application, you can see:
Summarized notes with Next Steps, Questions Asked and more details.
Full call transcript
Different speakers identified with their Talk time
Different topics detected
Coaching insights like how many times you used filler words, etc.
You can also edit summarized notes in Avoma and add any missing details.
3. Add Summarized Notes to a Salesforce Record
Avoma will review the meeting participants and check the same present in Salesforce against any Lead/ Account or Opportunity and those will be automatically associated with the respective meeting. If it does not happen automatically you can also manually associate the same by clicking on the "No Associations" icon.
Once the Lead/ Account or Opportunity is associated with the respective meeting, the notes for the same will be auto-synced in the Salesforce CRM. Please remember that once the transcript and meeting notes are available for the meeting, the notes will be automatically synced to your CRM.
The further changes made to the notes to the respective meeting within Avoma will also be auto-synced. The synced notes will be visible across Lead, Account, and Opportunity in your CRM. In case you want to manually add those notes to Salesforce's appropriate record, you can click on the "Sync" button at the top-right corner of the Notes section. You can click on the icon next to the Salesforce icon to open the lead in CRM.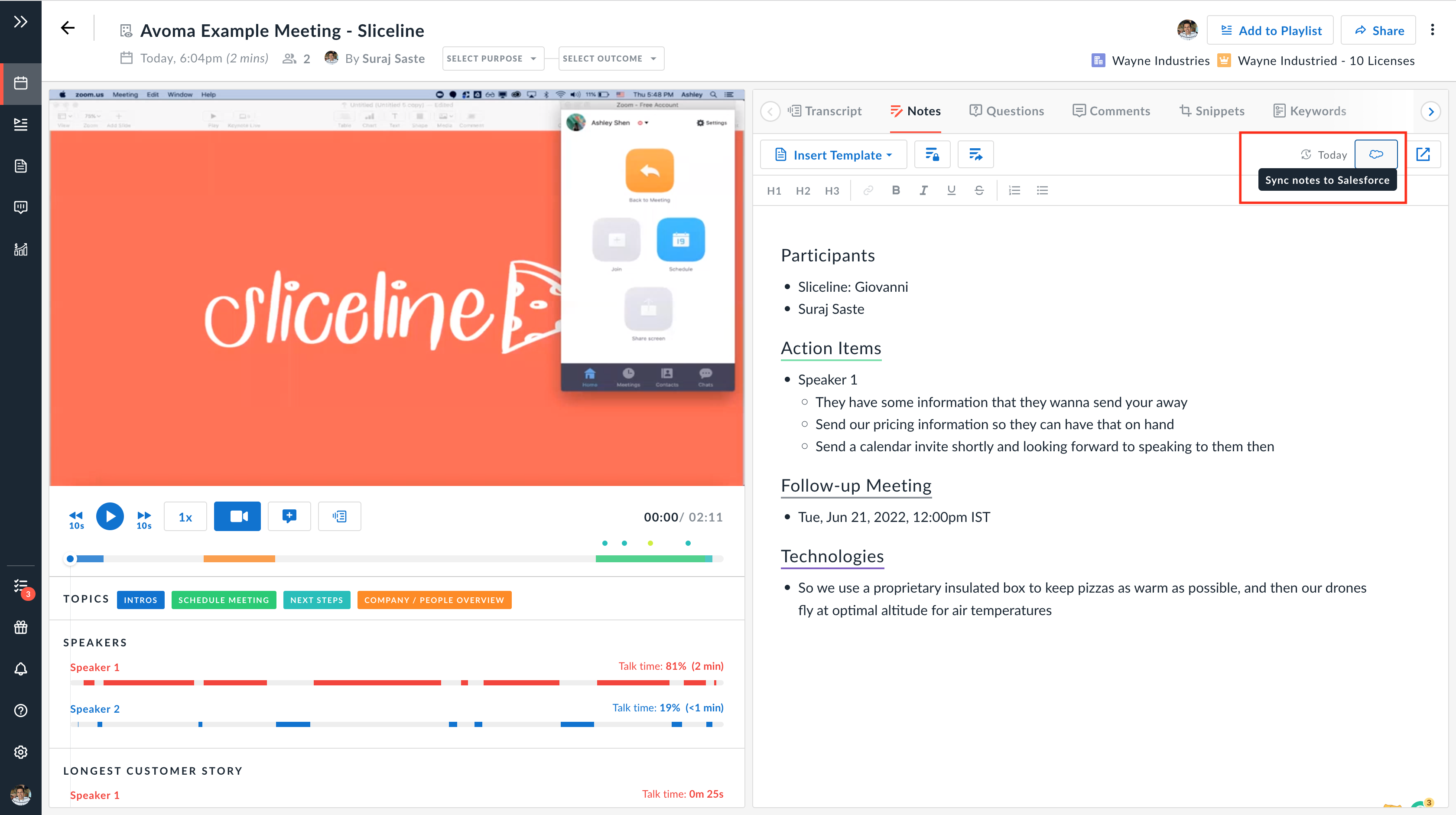 4. Get Timely Data-entry and Notes in Salesforce
All synced notes from Avoma, will show up in Salesforce's Notes as well as in the Activity feed for that appropriate record as shown below:
You can find that the meeting notes from Avoma will be associated with a Lead, Opportunity, and Account.
This way, now you don't have to worry about missing any key customer details from customer conversations and still make sure you capture important details in the Salesforce CRM in a timely manner. Once integrated you can also make changes to the notes in your CRM, Just click on the note to open a rich text editor to make changes and save them. Remember that these changes made to the notes within Salesforce CRM will not update the notes present in Avoma.
In order to start seeing the synced notes in the "Notes" and "Activity Feed" sections of Salesforce CRM, you need to make certain changes to the Salesforce CRM configuration. Please read through below for the same.
Required Configurations
After the notes are synced from Avoma to your Salesforce CRM you need to follow the steps mentioned on the below link to enable Enhanced Notes within your Salesforce CRM and Make Enhanced Notes Available for your Lead, Opportunity as well as the Account present in your Salesforce CRM so you can manage notes that are related to their records.