Once you've got the basics covered, here are some next level tips.
Order your SmartNotes
While an Admin might create SmartCategories for the whole organization, you may find that only some apply to your calls and meetings. By going to your SmartNotes in settings, you can reorder or completely turn off some of those categories that don't apply to your notes.
You'll then see those categories reorganized/removed from the buttons in your notetaker during meetings.
Review your upcoming meetings at least once a week
Look at the week ahead at your upcoming meetings. Is there a Purpose applied to all meetings? Are they scheduled to be recorded (or recording turned off for customers who are against it)? Do you need to prep any notes?
Most of the time, things go as expected but occasionally a meeting is mis-named so no purpose and template are applied and then your notes won't be extracted as expected.
Create your own Playlists
You may have Playlists for the organization that you add recordings to, but create your own! You can use these to track your great customer interactions, shoutouts from the team, talk tracks on the projects you're leading. Avoma can be a great place to collect this information on your own work and value at the company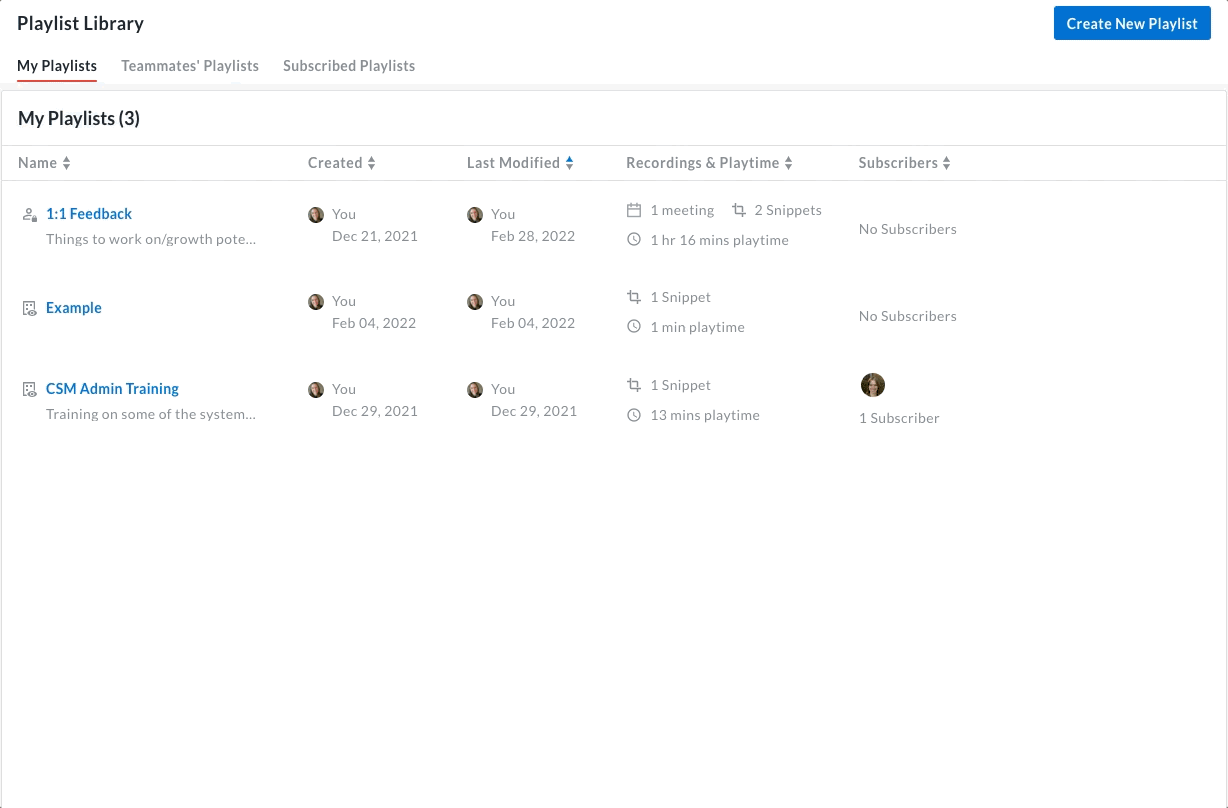 Conversation Intelligence
Leaders will often look at the Conversation Intelligence page in Avoma to help provide feedback to their teams, but if you have a Premium or Business license, you have access to view this data too! Filter by your name and then look at the data from your calls: everything from longest monologue to your most common "filler words" and plenty more.
If you have feedback from leaders or have goals of your own, this can be a great way to leverage the data and find trends that you may want to improve upon.
Hovering over some of those data points will often link back to the call the point is from so you can dig into why one meeting is an outlier.
Take a look at "Custom Trends" to search for anything you'd like. If you think something should be tracked, this can be a good way to investigate it first and see if the data backs up your hypothesis.

Don't be afraid to manipulate the data as it will only apply filters but you can't delete anything.
Get more Actionable Action Items
Avoma AI will try to listen for those action verbs to indicate an action for your notes. Right now, it will take the item verbatim out of the transcript, so if you're talking about a topic and then say "I will do it after this call," that is what the note will say.
Once the call is processed, you can update the notes to be a little more clear, but while on the call, if you are more specific about what it is you'll do, then there will be less work post-call. So instead of "I will do it after this call," you can repeat yourself and say "I will pull the usage report after this call" and the Action Item notes will be a little easier to read back.
Report Bugs/Feature Requests
If something isn't working, let us know!
Is there something you wish Avoma could do, let us know!
Email us at help@avoma.com with any issues or suggestions.