In Avoma, you have control over the privacy of all your meetings. There are 3 main privacy settings in Avoma: Public, Visible to Organization, and Private.
By default, all internal meetings within Avoma will automatically be set to private. All external meetings will default to be visible to your organization.
These auto-privacy settings can be updated for each individual user within their Privacy Settings. Or, they can be updated by an Admin for your whole organization in your Organization Privacy Policy Settings.
Additionally, you will have the ability to change the privacy of your individual meetings. This can be done by clicking on the privacy icon to the left of your meeting title and adjusting appropriately. Privacy settings for your individual meetings can be updated any time before or after the meeting occurs.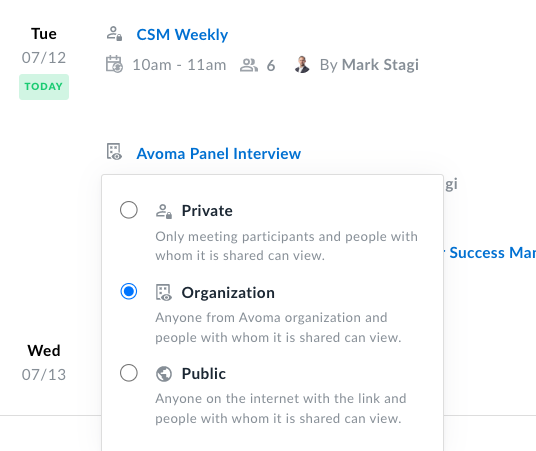 If you have any further questions regarding Avoma's privacy policies and settings. Please contact us at help@avoma.com.