One of the more fundamental aspects of using Avoma is finding the meetings that have been synchronized as part of the connection with your calendar. On the Avoma workbench you can access all of your Current, Upcoming, Recent meetings. Each of those meeting are divided by a set of designated categories.
My Meetings are those which you are listed as a participant. You will see the meetings if you are either the originator of the meeting or an invited participant.
Team Meetings are those meetings where by any one or more of your listed team members are involved in a meeting. (Configuring those teams can be done by an admin in Settings :: Organization :: Teams).
All Meetings is inclusive of those meetings of your teammates as well as those meetings which included others within your Organization (Note: assumes that that the meeting's privacy settings are set to Organization or Public).
Browsing for a Meeting
Browsing for a particular meeting is doable, yet can be cumbersome if your'e an active meeting holder. You can scroll through manually to see them.
The Upcoming meetings are available in quantifies of 5 with the ability to click through to find them (sorted by time).
The Recent meetings are displayed as last meeting shown and are refreshed with a scroll to the bottom of the page (an additional 15 meetings are added to the list).
Filtering for a Meeting
Using one of the multiple filters is a convenient way to find a meeting. Avoma has 9 filters available.

Date Range - Filter by Date Range allows you to find meetings by current or previous date ranges ( Today, Yesterday, Last 7, 30, or 90 days, Previous Month or Quarter). When a range is selected, the name of the filter changes and is reflected in the filter tile.
Companies - Filter by the name of the company with which the meeting was held (external to your organization).
Purposes - Filter by a conversational purpose that was established for a call. These can setup by the admin.
Outcomes - Filter by a conversational outcome that was created for the call. These can setup by the admin.
Stage During - Filter by deal stage during which the call was in when ????????
Stage Now - Filter by deal stage during which the call is currently in ????????
Call Types - Filter by the type of call that the system is capturing.
Amount Now - Filter by the last closed won dollar amount range
More Filters - Filter by a set of other filters, including (Meeting duration, Recorded Meetings, External Meetings)


Each Filter can be selected and used or cleared as appropriate.
NOTE: As a common troubleshooting technique, If you cannot find any or the expected meeting within your Avoma Workbench, Check your filters. There is a chance that you have set a filter and you have restricted which meetings will show. This could be anything from customer, purpose, stage, or more. Click on the Clear button to reset the filters.
Custom Tracker Category Search
If you would like to search y our meetings based upon one of the many keywords configured for your system, you can do so by selecting it in the Search bar at the top of the Workbench. By selecting one or more of the categories, the selection of meetings available will grow. Each of the selections are additive.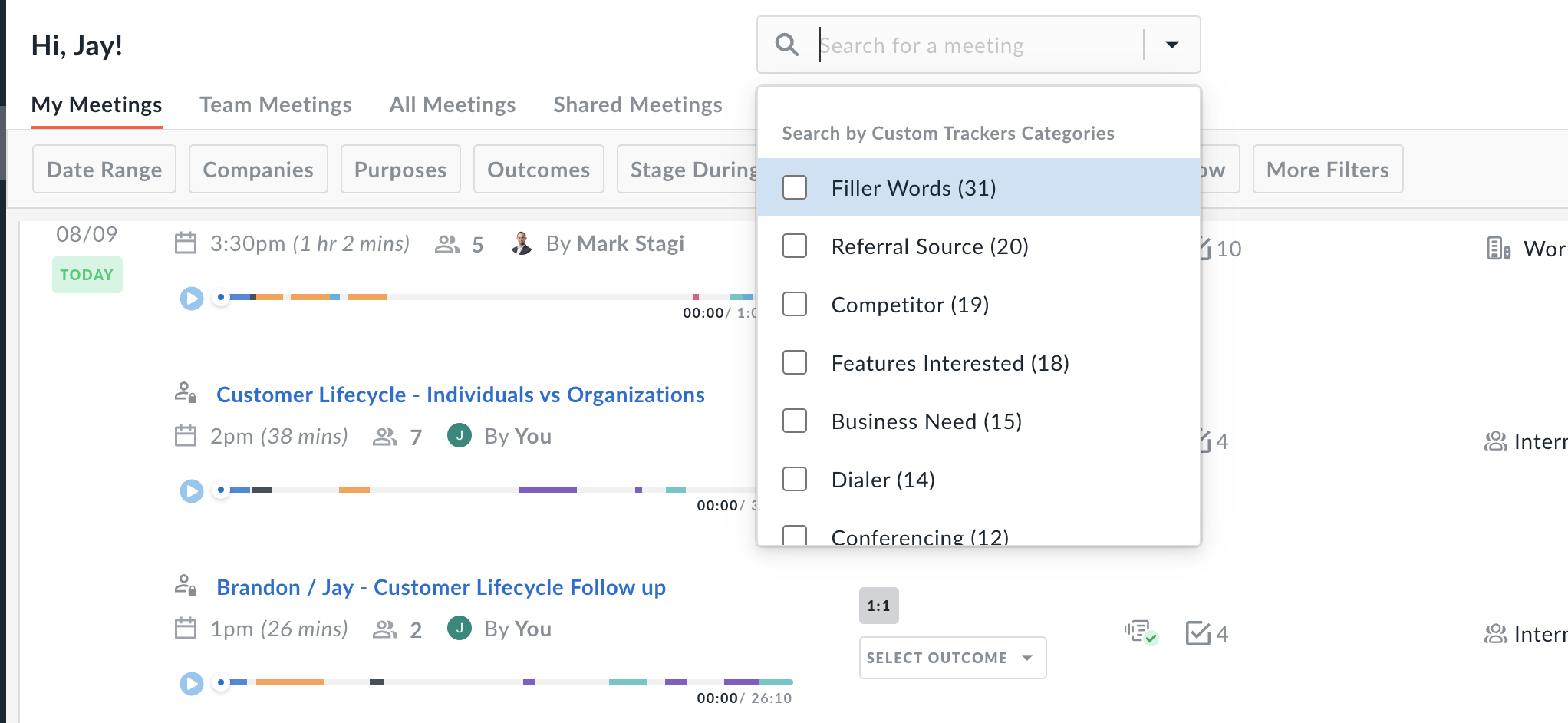 Saved Searches
Within Avoma you can create a filtered search and then save it for future use by yourself or by others within your organization.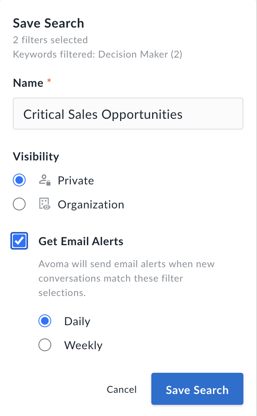 Use one or many of Avoma's filters or keywords from the Search box to establish your search criteria.
Click on the Save button.
When the pop up shows, review the quantity of filters selected and Name the filter.
Choose your Visibility criteria
Elect whether you would like Avoma to send you email alerts when new conversations match these filter selections. If selected, choose the frequency by which you would like to receive the notifications (Daily or Weekly).
Click Save Search.
NOTE: To recall a Saved Search, click on the Saved Search button and choose the private selection or one that was shared by others to the organization. All meetings that fit that search criteria (Upcoming or Recent) will be displayed and made available for review.
NOTE: to modify a Saved Search, Click on the Saved Search button and choose the Saved Search you are looking for.
Email Alerts can be added to shared Saved Searches
Editing, deletion, and email alerts can be modified for private Saved Searches