Collaborate with your team during a call by taking notes manually
While Avoma's AI takes care of much of the note-taking for you, there may be times when you prefer to take manual notes during a call. You can do this on the notes page while on an active call.
Taking Manual Notes in Avoma
From your My Meetings dashboard, click on the meeting that is Happening Now.


Once on the notes page, you will be able to type your notes manually.
NOTE: As with any notes in Avoma, any manual notes you take will be timestamped, so you can refer back to that part of the meeting for more context afterward if needed.
---
Collaborating with others
The notes page is collaborative, meaning that if others from your organization are also in the meeting they can add their notes alongside yours.
You can also tag other team members to call out certain action items, questions, or important points. Even if they are not part of the meeting, they will be notified and the meeting will be shared with them.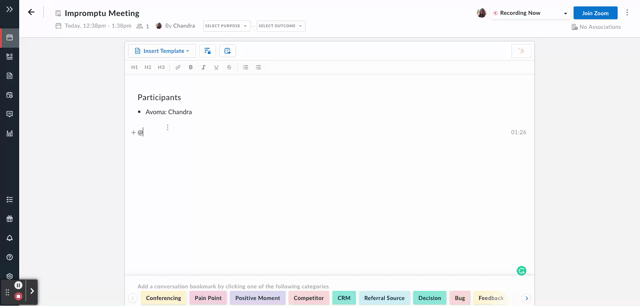 By collaborating this way, teams can keep all their notes in one place, reducing the chance of important action items falling through the cracks or important information being lost in translation.
NOTE: If you're in an external meeting and the external participants are also Avoma users and open the notes page for the same meeting, they will NOT see your notes; they will see their own organization's version of the notes page.
---
If you have any additional questions, please contact our team at help@avoma.com.