You can set up alerts in Avoma to notify a Slack channel when your meeting matches your custom filter.
Welcome to our Slack integration knowledge base article. Here, you'll find the information you need to set up and use our integration with Slack. Stay connected and efficient by using our Slack integration.
Avoma helps you understand what is being discussed in meetings, hear what your customer are saying, and track which competitors are being mentioned. If you have any questions or issues, please reach out to our support team for assistance.
Setting up the Slack Integration
As an Admin of your organization, you can connect Slack to Avoma for all members of the organization.
Navigate to Integrations in the left hand navigation by choosing Settings > Organization > Integrations.
Click on the Connect Slack button as part of the App Integrations. This will redirect you to an authentication page.


Review the view and action permissions, then Click Allow to connect Slack to Avoma. If successful you will see a confirmation screen.




---
Publishing a Keyword Search Filter to Slack
Once the Avoma to Slack integration is established, any Paid Avoma user can set up a Slack Alert.
From a tab in your Meetings page, search for the Keyword in the Global Search for which you want to set up the Slack Alert.


Click on to the Bell icon in the tab to set the Alert preferences for the filter.


Enable Slack Alerts, then Search & Select the Slack channel to which you intend to send the notifications.




NOTE: The moment you select the Slack channel of choice, you will receive a notification that the alert has been successfully enabled.
Warning. Reminder that if you are attempting to create an email or Slack alert for a tab that is Avoma standard or from a Teammate, you will need to save the search results as a custom view before you can proceed.
---
Viewing a matched result in Slack
Whenever a new conversation matches the keyword saved, a Slack notification will be sent to the set Slack channel.

The Slack notification will provide information about the call, plus identify where in the transcript the keyword was found.
The alert message contains information such as:
Meeting subject & time in user's timezone.
Host & participants
Associated CRM data (if any)
Matched transcript text (if any)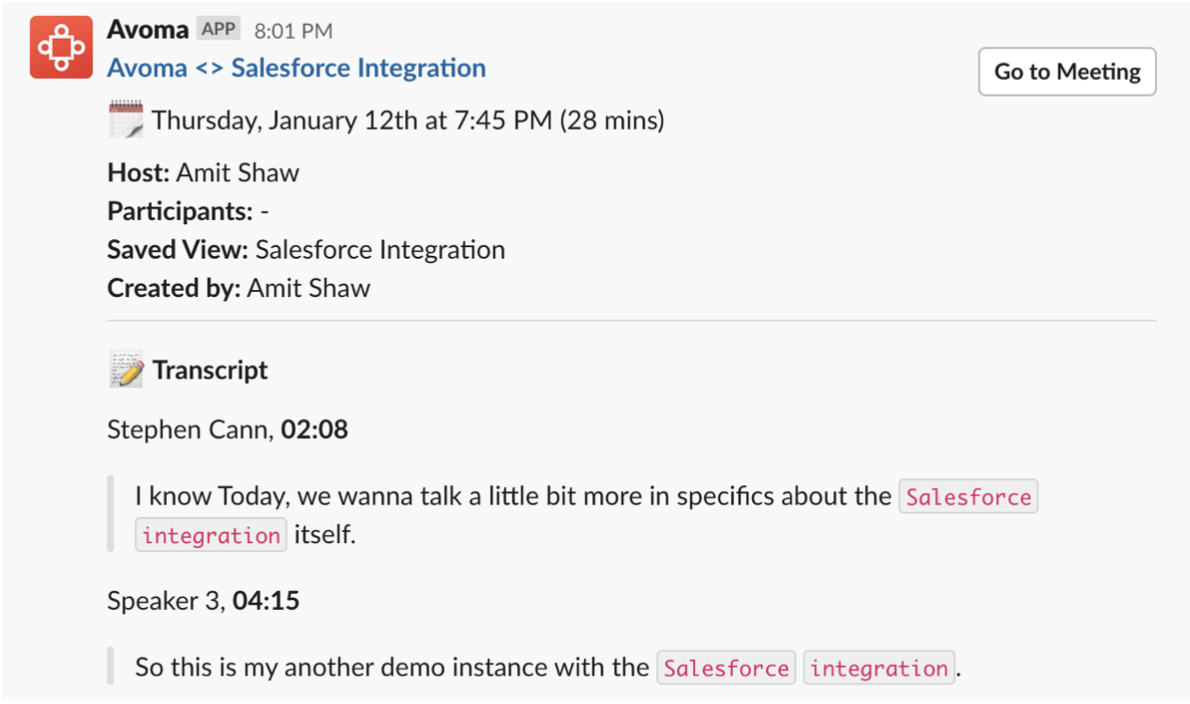 ---
If you have any additional questions, please contact our team at help@avoma.com.